Our Monthly Art Jam with Hops.
CANVAS is our way of art-jamming, with hops as paint and beer as our canvas!
Expect something fresh and different every month as we paint a picture with our wildest hop fantasies.
The series isn't just our canvas. Joining us on this year-long, colourful journey are 11 local artists who will fill each can's labels with their style of art and expression. At the end, we might get a massive one-of-a-kind art collage; but honestly, the beauty is in the process here. Just enjoy the beers and let it rip.
Store your CANVAS at 4 °C and enjoy the beer pronto at its raw freshest best.
Note: Due to current Covid-19 situation, distribution of beer might be limited. You will most definitely find the beer at the best bottle stores in Singapore. Spot this at bars/restaurants who are open for takeaways and deliveries too! Cheers to weathering through P2 (HA), mates. Keep safe #offdaybeer
---
Citra / Mosaic
Release: May 2021
Artist: Old World Charm
Let us help start your #stayhome chill perfectly. Fresh from the tanks is our May release of CANVAS featuring a modern classic hop duo: Mosaic and Citra. Same same but different, we're stoked to unveil this month's number having brought out an uncommon expression from a familiar hop bill:
Blueberries and pine, with lemon rinds intertwined! A tinge of tropicals may linger, but it's mostly in your mind.
Adorning our unique tasting CANVAS is a unique looking artwork by the amazing @oldworld_charm. A painter who has a penchant for hand-painted signs, lettering, and gold leaf gilding, Old World Charm aims to achieve the aesthetic of days gone by. Strokes, textures, and the beauty in imperfection are often used in her work to evoke depth and character, and to stir up nostalgia to remind people that "Old is Gold".
Do look up her work via Instagram @oldworld_charm!
---
Nelson Sauvin / Citra
Release: Apr 2021
Artist: Trangdrawsbangs
This month, CANVAS brings us to wine-ish territory! In a NEIPA, we experimented with Nelson Sauvin and Citra to give us more reasons to unwind and relax with an unusual tooty-fruity blend of gooseberries, kiwi and persimmons notes.
Like all CANVAS, adorning the limited 500ml cans is an artwork by a local artist. (@Trangdrawsbangs) Trang Dang's illustration is inspired by the familiar process of casting aside the inherent inertia before getting up and doing something that some might eventually find kinda fun!

What an eye-catching work from Trang, who works as an illustrator and art director at @Goodstuph. You will find her works in the areas of ad and social media content. She enjoys creating colourful slice-of-life illustrations and hopes they will inspire others to pick up a pen and tell their story visually. When she's not drawing, she's all about memes, music, or mindless reality TV!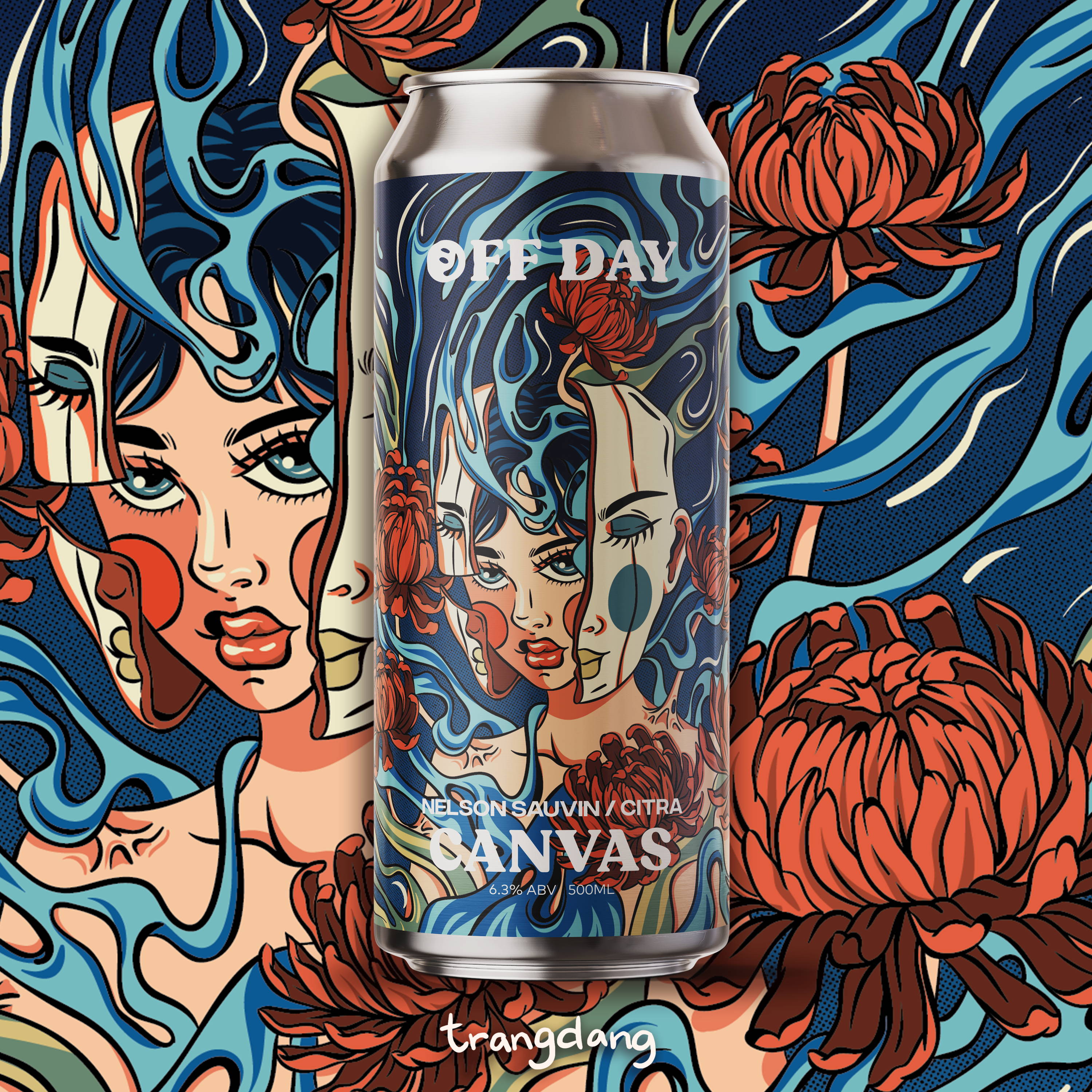 ---
Ekuanot / Azacca
Release: Mar 2021
Artist: Tobyato
March on confidently with March's CANVAS Ekuanot / Azacca, a delightful NEIPA that sports a pleasant, pillowy delivery of hop-derived citrus and stonefruit notes reminiscent of pomelo zest and apricot from nose to palate! The beer finishes with a fun, wheaty maltiness that gives mouthfeel and heft with every sip.
This month's CANVAS was adorned by @Tobyato, whose black swirls look strikingly stunning with the can's metallic finish. Inspired by Off Day's philosophy of insisting on finding time to enjoy a day off amidst our fast paced society, Tobyato took this opportunity to slow down too and let his strokes and waves swirl all around the can. This is something he doesn't get to do often as he usually works with clients on commercial projects, but we are both glad that Toby found time to come up with these amazing swirls.
More about Tobyato:
Inspired by things often overlooked and playful influences that reflect his own personality, Tobyato enjoys working on non-paper mediums for they call on guts and perspectives to take on. From sprawling murals to skateboard graphics and sneaker customs, his works have been commissioned by the likes of G-Shock, Levi's, Adidas, and Asics. Check out Tobyato and his vibrant works via Instagram @tobyato!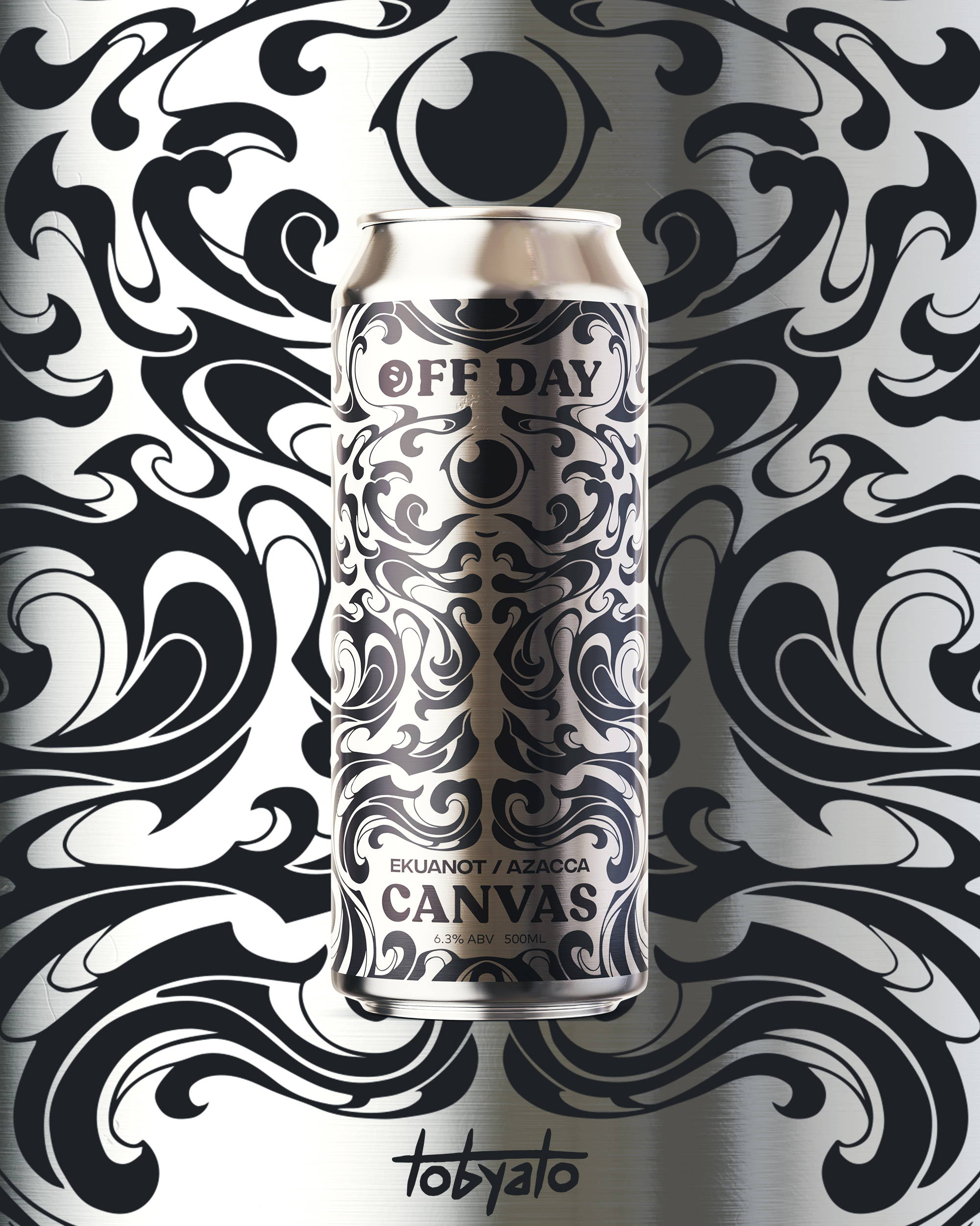 ---
Mosaic / Galaxy
Release: Feb 2021
Artist: Kelvin Chan aka Rocketraygun
It's almost the end of February, and we thank you for your patience! It felt good to slow down just a little, in order to get ahead. This month's awaited release is a delicious lo-fi sunset paradise that drinks of peaches, melons and passionfruits.
And have Kelvin or @rockeyraygun to thank for personifying this into a chic disco 'galaxy' roller girl oozing with lo-fi vibes. A former creative director in traditional news media turned indie graphic novelist and figurine sculptor, Kelvin is a person person. You read that right. As an avid comic book and pop-culture lover, he always has someone (virtual/real) in mind when he's working on an artwork or sculpting statues of characters from games and films with @Kinetiquettes.
Follow his adventures at @Rocketraygun
---
Citra / El Dorado
Release: Jan 2021
Artist: Bbblob
Let's start the year in a fruitful manner! Our latest addition to CANVAS, the monthly IPA series that collaborates with local artists, sees a new NEIPA addition for January's release. January's CANVAS Citra / El Dorado is an all round fun beer, delivering a sublime hop-derived fruit mix of grapefruits, mangoes, pears and melons.
Our artwork was done by featured local artist Jacelyn or @_bbblob , and she was an absolute delight to work and hang out with. She explores harmony and colour in her works. Her signature? Bright, vivid, and organic shapes interacting with one another represent our relationship with ourselves and others.
---
Chinook / Columbus
Release: Dec 2020
Artist: Extra•Ordinary People
Our 4th label of the CANVAS monthly artist collaboration series dropping on 3rd December is timed to coincide with the International Day of Persons with Disabilities. Collaborating with the cheerful Lama Majaj, Principal Art Psychotherapist at @extraordinarypeoplesg, we wanted to bring this month's installment beyond appreciating beer and art; we want it to celebrate the colourful spectrum of human diversity too. Like Extra•Ordinary People's vision of building an inclusive Singapore, the colours blend fluidly into an organic pattern, illustrating how we can come together through mutual respect, compassion, inclusiveness and integrity.

In the spirit of festive giving, Off Day Beer Co. would like to extend some Christmas cheer to Extra•Ordinary People and support their work in journeying with persons with special needs, through providing therapy services, employment opportunities and access to visual and performing arts. On 6th December (Sunday), we would like to donate all profits of CANVAS Chinook Columbus sold at Good Luck Beerhouse specifically to the organisation. We will also host a Zoom-guided stay-home art jam session involving linocut printmaking and a can of CANVAS, led by Lama. Stay tuned for more details, but there's definitely much tasteful fun to be had while spreading cheers.
Find our more about Extra•Ordinary People at https://extraordinarypeople.sg/
---
Centennial / Simcoe
Release: Nov 2020
Artist: Okenak
Hemp-like dank meets holiday pines. That's what's waiting in the can when you crack open this clear, Double Dry-hopped IPA on a hot Singaporean afternoon. Best consumed when slumped on the sofa, staring at your overly-familiar home interiors – you'd wish you had more time to yourself, but for now, take in every sip and be present. This 3rd can from our CANVAS series sees us collaborating with Okenak, who drew inspiration from his childhood home in Cavite, Philippines. Ken Vicera Kaneko otherwise known as Okenak, loves melting into the couch as a hundred kitschy trinkets and framed portraits watch him watch the janky ceiling fan spin the day away.
Find out more about Okenak at okenak.com or @okenak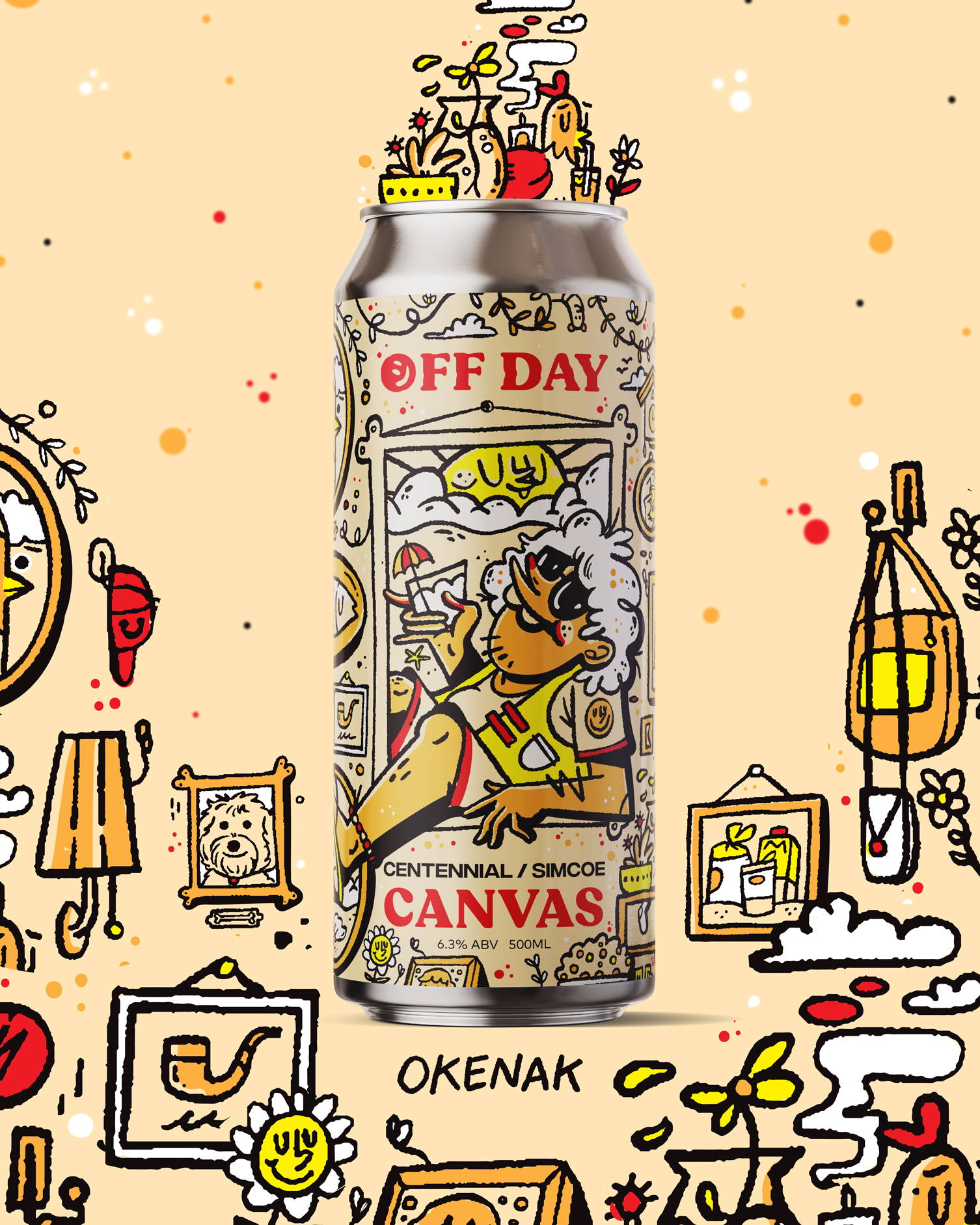 Azacca / Citra
Release: Oct 2020
Artist: Aeropalmics
With resonant notes of sweet, ripe mango and citrus, followed by hints of pear, apple and pine needles, this smooth, creamy beer takes you on a refreshing journey of tan lines, sunny sands, and boundless possibilities.
As vibrant as the cans' contents, our first filled label of CANVAS, is designed by Aeropalmics.
Taking inspiration from Off Day's creativity and passion for hops, Aeropalmics plays on movement and transitory states using tropical colours and energising shapes that take the beer experience to new sensory heights.
More about Aeropalmics:
Aeropalmics lives in a state of perpetual bliss. With her eyes open to the unending sensory magic of the natural world, she makes art that manifests this fascination in unpredictable, novel ways. Despite her work having found homes in prominent galleries and collections worldwide, she feels most content in her studio. To see work that some have described as "capturing different shades of the human condition", follow her journey at @Aeropalmics and aeropalmics.com
---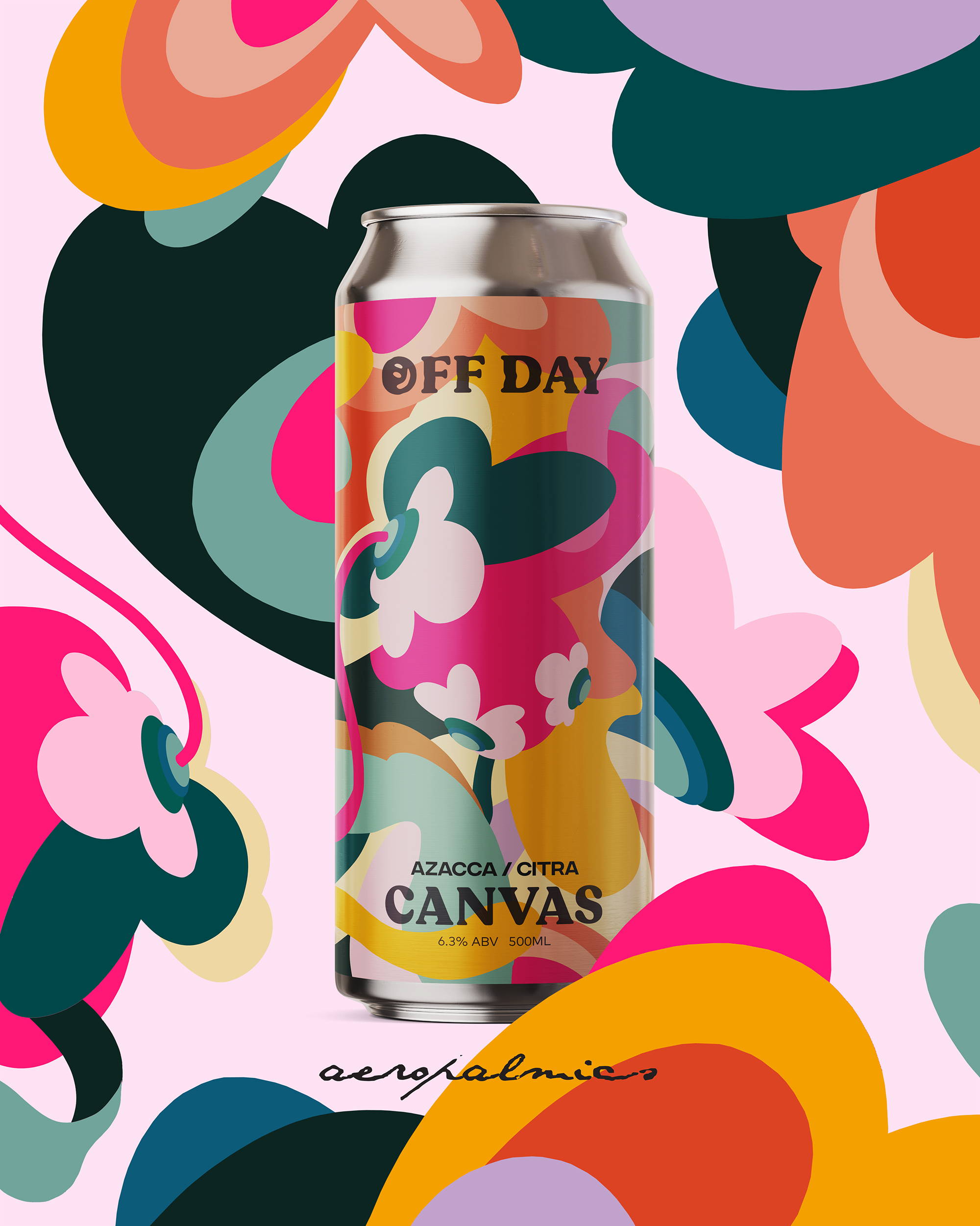 ---
Cashmere / Citra
Release: Sep 2020
Artist: Blank
The series kicked off with a smooth hop duo: Cashmere and Citra. Together, they impart a dominant perfume of coconuts and pineapples. The aroma then makes way for notes of citrus rinds, tangerine, and heaps of white peaches. We are off to a good start!
Every canvas starts blank, yet there's beauty in simplicity. A blank label full of possibilities embodies the welcome and challenge this series bears for us. From hereon, 11 local artists will join us to fill the labels of the next 11 cans of the series, each an expression of their individual style of art and direction.
---